Brades' Place provides home-based medical care for children with life-long health challenges. We focus on understanding each child's unique needs and offer individualized services that help them live their best life.
We recognize the importance of family resilience and offer services to strengthen and support caregivers and siblings.
Brades' Place is nonprofit because our highest priority is always the needs of our patients and their families.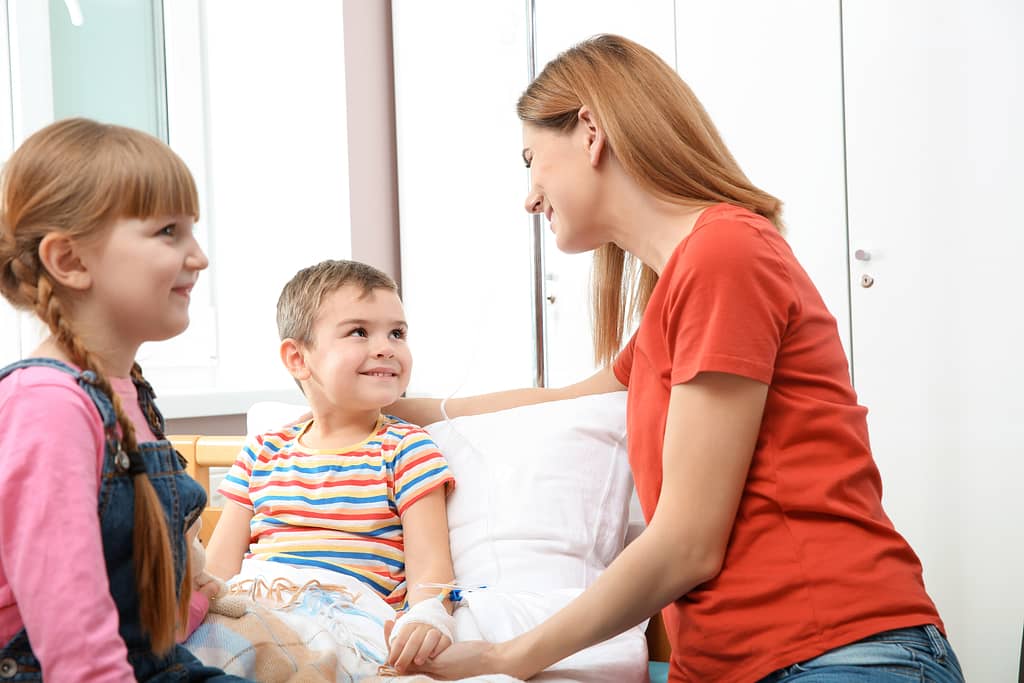 Brades' Place has something to offer for the whole family! Click the tabs above to learn more about how we support the parents and siblings of children with complex medical needs.
Pediatric palliative care is an extra layer of medical care for children and families living with serious illness. Watch the video below from "Get Palliative Care" to learn more.
Pediatric palliative care provides a supportive layer of healthcare for children with lifelong illness. The purpose of this added layer is not to cure the disease, but rather to assist the child in living their best life. Often this means alleviating pain and increasing the child's functional ability to engage with the world around them.  When applied at the time of diagnosis, palliative care is able to offer these supports most effectively.
In addition to physical health, palliative care addresses challenges related to emotional care such as stress management and grief. Spiritual wellness is also included, such as identifying meaning and purpose in a life that may look very different than expected.
Palliative care also includes the child's family. We recognize the difficulties inherent in caring for a child with medical complexities and believe that many complications can be avoided by providing caregivers, including siblings, with the support that they need in order to best care for their loved one.
Our holistic health approach supports the whole person by providing physical, emotional, and spiritual care. This balanced approach provides a blanket of support that is essential to maintain resilience and wellness when living with long-term diagnoses.
Physical
Each of our patients are physically unique. Understanding their body, the way it functions, and how they will develop is important when managing their physical health.  This care includes matters of comfort and function such as mobility, communication, developmental needs, and personal interactions. 
Emotional
We attend to the emotional effects of long-term illness for both patient and family by fostering resilience, improving coping strategies, bolstering stress management skills, increasing emotional intelligence, and prioritizing sibling needs and caregiver fatigue.
Spiritual
Spiritual care is separate from religion.
It empowers personal connection to clarify purpose and meaning. This promotes reconciliation with the past, peace in the present, and hope for the future. We facilitate discussions centered on the patient and their family's values and beliefs around life, purpose, and meaning as well as meaningful practices that empower these beliefs.
These five pillars are the foundation of home-based pediatric palliative care at Brades' Place.
By receiving these five services each family is supported in achieving their best quality of life.
Patient and Family Centered Care
We center our medical care around each patient and their family.  We ensure that medical care and treatment decisions are fully supportive of each patient's individualized needs, priorities, and goals.
Medical Connection
Brades' Place provides our patients and their families with 24/7 direct access to our medical palliative care team, allowing for help exactly when and where needed.
Medical Care Coordination
Through coordination and communication with existing primary care providers, specialists, and other medical team members, Brades' place ensures cohesive care for each patient.
Multidisciplinary Medical Team
Comprehensive care requires a multidisciplinary approach. We ensure the patient has a diverse, well-rounded medical team to implement their thoughtful and well-informed medical care plan.
Education
Brades' Place believes education is essential when living with a complex diagnosis. Through individualized education, workshops, and additional resources, we empower families to better understand their child's medical needs and plan for the future.
Home and Community
Based Care
Most of the services we provide take place in the patient's home. 
We work along-side of each patient and family to resolve daily challenges, discuss your family's health care needs, and ensure your medical care prioritizes and reflects your family's values and goals. 
24/7 Medical Connection
Brades' Place families can reach us any time with our dedicated phone line. Each call is answered by our medical professional who is familiar with each patient and can provide assistance in urgent but non-emergency situations. This connection allows escalating symptoms to be addressed quickly with individualized medical support exactly when it is needed.
If the health status change involves an unresponsive person, trouble breathing, critical injury, or other emergency, call 911.
Medical Care Coordination
We connect the existing members of the patient's medical care team, easing the burden of communication for parents. This provides cohesive care, which is critical during times of increased medical need, transition, and changes in treatment.  This also reduces caregiver burden by streamlining prescription medications, medical supplies, and appointments.
Identify Gaps in Care
We take time to understand the patient's current medical challenges,  which identifies gaps in care and unmet medical needs. We problem solve with each family and then provide specific services and connect to existing resources.
Diagnosis Education
Brades' Place highly values education in understanding and living well with serious illness. We provide education and resources to each family and those close to them regarding the patient's diagnosis. We talk about the day-to-day aspects of the diagnosis, what the potential progression looks like, and what palliative care treatments are available to mitigate complications, maintain function, and alleviate discomfort.
Resiliency
Brades' Place prioritizes the emotional health needs of both patients and their family members.  While we cannot change the inherent difficulties of living with chronic health challenges, we can cultivate the emotional resilience needed to live well with serious illness.
Therapy Services
Through various partnerships, Brades' Place provides access to home-based physical, occupational, and speech therapies.  We also offer additional services for patients and family members such as child life, medical massage, and music therapy.
Legal Services
Brades' place works with families to identify and clarify their values, goals, and wishes regarding their child's comfort, function, and medical needs. We ensure these values and goals are supported by advanced directives (POLST/MOLST) and other legal documents in times of transition (such as entering adulthood/guardianship) and changes in health status.
Brades' Place can help identify, understand, apply, and enroll in the programs that exist to aid individuals with disabilities (DSPD services) or medical complexities.